ARP Based model
Status: Patreon only
Latest Version: 1 (08/07/2023)
Blender Supported: 3.6 or above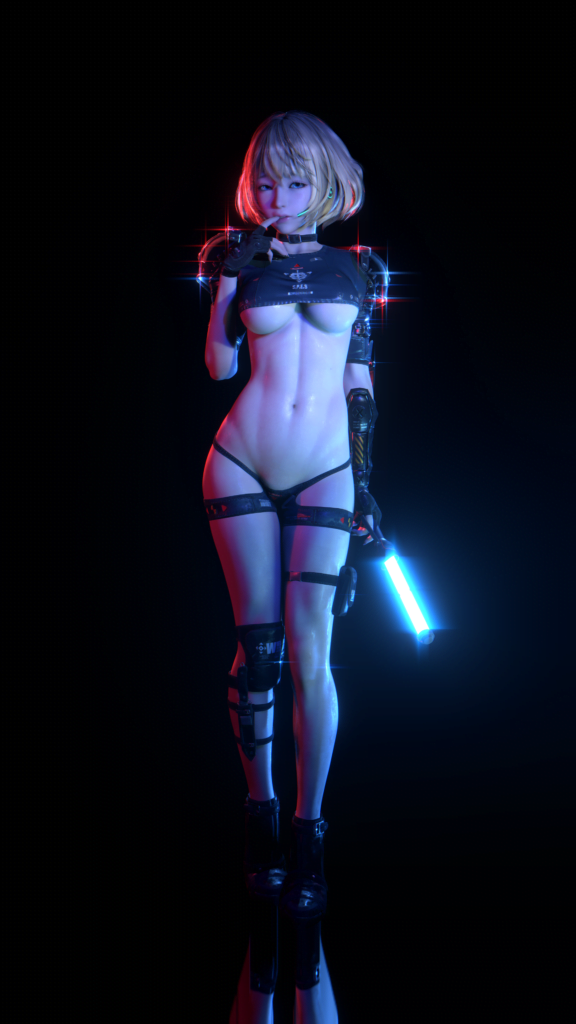 Features
Exact model from the game.
Four original outfits.
Face and body rig similar to the in-game one.
Customized shaders and textures.
Auto Rig Pro based model. Some additional features are available: IK for fingers, advanced breasts/genitals rig, etc…
Cycles and Eevee ready. The latter has dedicated shaders (my preview pictures are mostly made with Eevee).
Instructions
The model requires the ARP runtime addon if you want to switch IK/FK, use the snap tools, etc.. It is highly advised to install it before using the model! It can be found in the Archive folder (rig_tools).
To move all the finger bones at once, scale the first bone.
If you are using any of my models for the first time, check the Model requirements and documentation. The guide is valid for the MustardUI part only, as this model is not Diffeomorphic based.
An Asset Library with some poses and emotions is available internally (no external download needed).
Moreover, some Animations are available. To use them, clicking on the Asset Library item is not enough: use the Dope Sheet (Action Editor) to change the current action on Alet_rig Armature.
Note: As for all Asset Library poses, they can be enabled only after clicking on the bones to pose.

Gallery
Developement
If not specified near the model version, you do not need to redownload textures.
Version 1 (08/07/2023)
Feature: Added some controllers for the face rig.
Feature: Added an additional skin effect (can be enabled from MustardUI).
Enhancement: Added an additional movement to the Jaw bone. When opening the mouth, the lip bones should move better.
Bug: Fixed some body mesh parts that were unconnected.
Bug: Fixed the eyes not being in the correct position in default pose (Pose mode vs Rest mode).
Bug: Fixed some hair strands not being moved by bones.
Bug: Fixed pubic hair.
Bug: Fixed eyes rotating when the eyelid bones were not moving.
Beta 4 (03/07/2023)
Enhancement: Compatibility with Blender 3.6.
Bug: (Hopefully) fixed the eyes rotation problem. Please let me know.
Beta 3 (13/06/2023)
Feature: Added IK for Fingers.
Enhancement: Correctly sorted all bones.
Bug: Scaling the first finger bone was rotating only 2 bones instead of the whole finger.
Bug: Added back the missing tongue bones.
Bug: Fixed the dependency cycle errors that were causing issues with IK/FK and decreasing viewport performance.
Beta 2 (11/06/2023)
Feature: Added some emotions as poses (more to come).
Feature: Added a walk animation (work in progress).
Feature: Added genitals bones controllers.
Bug: Fixed the eyes UV and color.
Bug: Fixed some mesh errors.
Bug: Fixed some small bugs.
Beta 1 (07/06/2023) – First release for patrons.
Future Ideas and Known Bugs
Future Ideas
If you have any idea not mentioned in this list, please contact me on Discord. The current suggestions are:
Expand the emotion library.
Add more animations.
Add more outfits (pending extraction from the game).