Generation: 3
Status: Released
Latest Version: 1.8.3 (16/07/2023)
Blender Supported: 3.6 or above
Features
Face model from the game, with complete face rig.
Custom body proportions, resembling the canon ones.
Two original outfits.
Tons of additional outfits, with custom properties.
Possibility to add additional outfits following the Import Outfits guide.
Three hair styles from the game and a Blender particle hair one.
Tons of customization body morphs and emotions.
Corrective shape keys for extreme poses, plus tweak bones.
Cycles and Eevee ready. The latter has dedicated shaders (my preview pictures are mostly made with Eevee).
Instructions
If you are using any of my models for the first time, check the Model requirements and documentation. The main documentation is valid for all models.
Moreover, some specific instructions for this model are available below.
Model specific instructions
There are two ways of closing Tifa's eyes with two different bones in the face rig. The right is more canon and like the game, but I left the other option in case you like it more. You can switch between the two in the Advanced settings of MustardUI.
Note: if subdivision is not enabled, closing the eyes as in the right image might seem to create artifacts in the mesh. This is correct, as these problems are solved when subdivision modifiers are enabled.
Gallery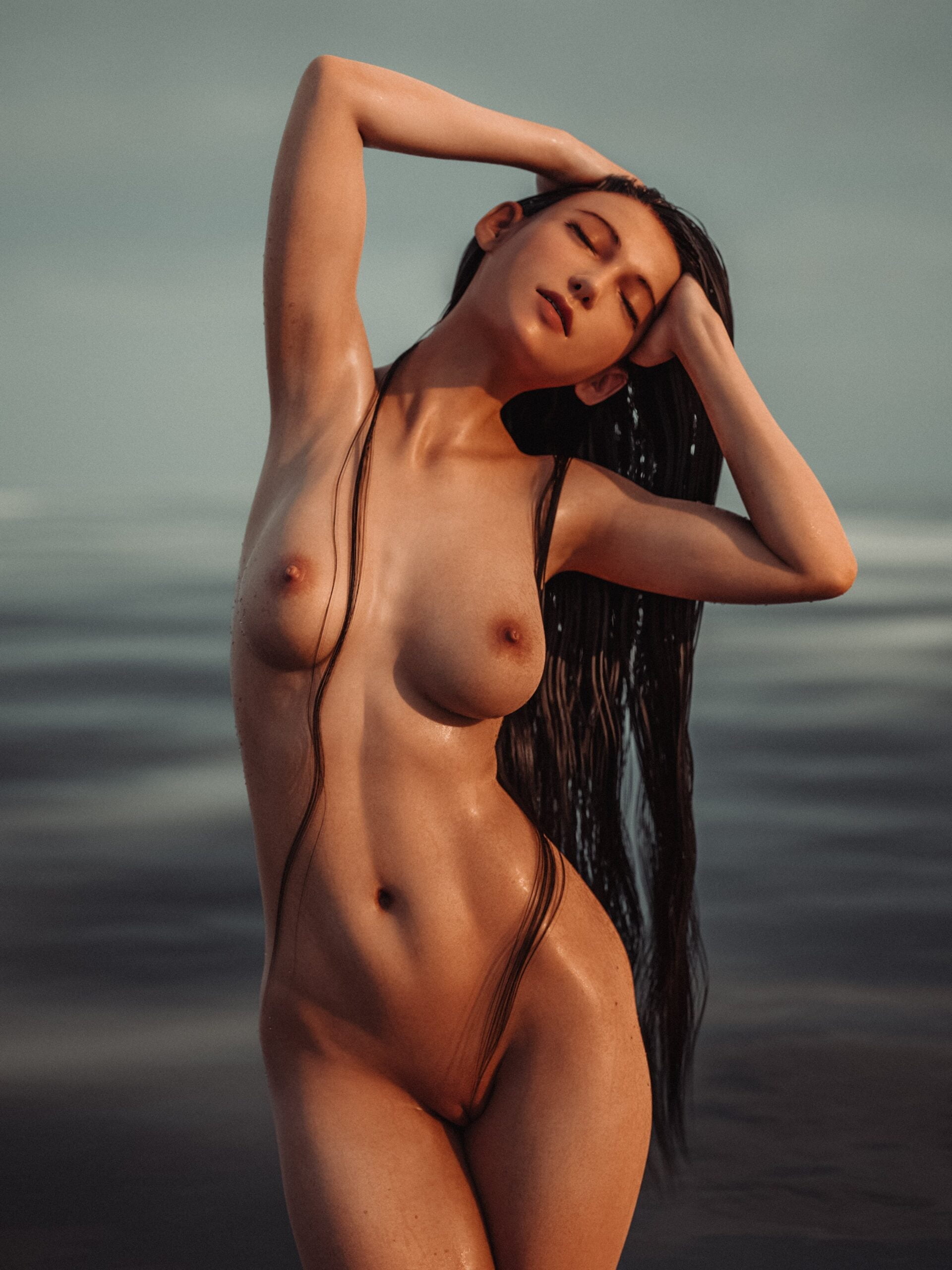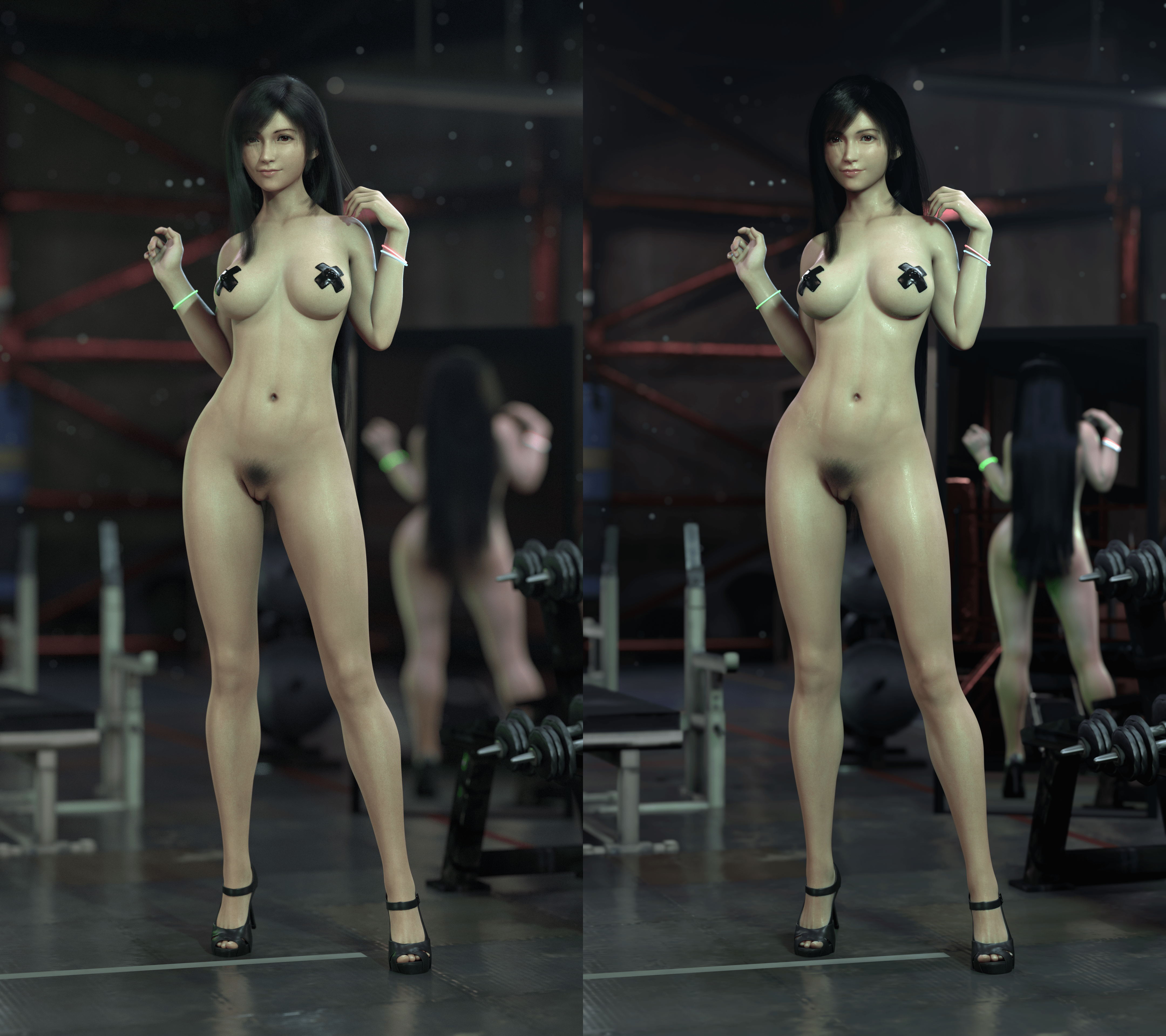 Preview of shaders in Cycles (left) and Eevee (right).
Developement
If not specified near the model version, you do not need to redownload textures.
Version 1.8.3 (16/07/2023)
Version 1.8.2 (02/06/2023)
Bug: Fixed missing bones in Bikini B outfit.
Bug: Other small bug fixes.
Version 1.8.1 (29/05/2023)
Feature: Highlights are available to add and customize for particle hair.
UI: Updated to MustardUI 0.26.22.
Version 1.8.0 (28/05/2023)
Feature: Added 4 new outfits for the summer!
Feature: Short hair-style.
Improvement: Enhanced some body/face shaders (the skin color should be better in more cases).
UI: Update to MustardUI 0.26.21.
UI: The UI can be updated from the MustardUI panel without having to redownload the whole model.
Note: From this version, Blender 3.5 or above is required.
Version 1.7.1 (23/01/2023)
Improvement: enhanced/fixed several issues with the shaders for Cycles.
Bug: fixed the eyes shader in Cycles.
Bug: fixed the hair shader in Cycles.
Version 1.7.0 (20/12/2022) – Textures has changed
Feature: Added a new Christmas outfit, with particle effects that can be toggled on from the UI.
Improvement: Full Blender 3.4 compatibility. The model will not work on previous versions anymore.
UI: Update to MustardUI 0.25.2.
Bug: Some bones were not hidden/shown correctly when switching outfits.
Bug: Fixed color properties not working in Blender 3.4.
Bug: Tons of small bug fixes.
Version 1.6.1 (14/10/2022)
Bug: Breath morph values were not reaching the max possible value using the bones.
Bug: Breath bones were not affecting some outfits.
Version 1.6.0 (13/10/2022)
Improvement: New lips shader.
Improvement: Some standard Emotions (e.g. Smile and Happy) has been revamped, and should be more natural. Please let me know if you find some emotions that are "odd" and should be checked.
Improvement: Removed additional useless 4K textures, the model should use even less memory than the previous version.
UI: Update to MustardUI 0.25.1.
Bug: Visemens and some other facial morphs were corrupted.
Bug: Fixed an issue with 2 wrong Tiff textures, which were creating several warnings in the console and slowing down the Eevee shader compilation.
Bug: Fixed an issue with Dirt not working as intended for the Arms.
Version 1.5.0 (29/08/2022)
Improvement: Significantly improved the VRAM consumption (from 30% to 50% less memory, depending on the outfit used).
Improvement: The Final Fantasy VII Remake Default outfit shaders have been re-done to be more like in game.
Bug: Subdivision was creating artifacts in the lower part of the top in the Final Fantasy VII Remake Default outfit.
Bug: Removed a lot of un-used textures on the body and in the ouftis. The total number of 4K textures used has been significantly reduced.
Bug: Part of the shader has been redone to avoid repetition of some computations.
Bug: Some UVs were not merged, creating performance issues and additional memory consumption.
Bug: Tear part of the eyes was not working when the eyes were closed.
Bug: Genital bones were disabled when Morphs were disabled.
Note: The combination of the memory usage and shader optimizations have reduced the VRAM used by the model up to 50%, depending on the outfits used. An example is in the image below, when only the Body is rendered (consider 1Gb of VRAM used by the system where the new modifications were tested). Moreover, the shader compilation time is also reduced significantly due to the simplications in the shaders.
Version 1.4.3 (07/08/2022)
UI: New Tool to disable Morphs without disabling the face rig controllers. The documentation will be updated for more informations on these new buttons.
UI: New Tool to remove single outfits completely (not only from the UI, but removing also the data and checking for eventual Orphan data). This tool can be used only in Configuration mode, either with the dedicated button in the Outfit List or right clicking on an outfit and pressing Remove Outfit.
UI: The Remove UI has been completely revisited,. It it is now possible to choose between three modes: remove the UI without deleting settings or objects, deleting the UI data preserving all the Objects, remove the UI and delete all the Objects. The latter tool is especially useful to quickly remove a model from a scene, without the presence of Orphan data that might remain if a manual removal from the Outliner is performed.
UI: New Tool (in the Clean Model tool, available in the Settings when Maintenance Mode is enabled) to remove all the Diffeomorphic data if you don't plan to add new Outfits to the model. For Tifa you can get additional 5fps with one click.
UI: The Hair mesh now also have Global properties (subdiv, smooth correction, particles and normals auto-smooth).
Bug: Some Objects have Normals Auto Smooth active by default.
Version 1.4.2 (01/08/2022)
Bug: Tan and Tan Lines options were not working with Cycles.
Bug: (Hopefully) fixed a bug that might create a shader seam around genitals.
Bug: Fixed a bug in the Pink Dress, where moving hands would move part of the skirt (thanks to MaidenMasher).
UI: Fixed an error that might randomly activate some Extras after disabling Simpligy (thanks to MaidenMasher).
Version 1.4.1 (30/07/2022)
Improvement: Minor change in the skin normals.
UI: Fixed an error that prevent the Armature modifier to be correctly switched on when you switch Outfit.
Version 1.4.0 (29/07/2022)
Improvement: The model has been heavily optimized. The boost can be from 100% to 300% in Viewport Solid model when animation keys are set, using the Simplify option in the UI.
UI: New Simplify tool, to disable most of the stuffs that are useless for animating with one click.
UI: New Advanced option to preserve Corrective morphs when disabling the Morphs.
UI: New Clean Model options for Hair and Extras.
Version 1.3.3 (16/07/2022)
Improvement: Particle Hair settings has been tweaked to make the hair softer, especially the tails.
Bug: Particle Hair parenting was wrong, and could create problems if the armature Object was moved.
Bug: Removed Physics Enable button from the UI, since it's not working, to avoid confusion.
Bug: Some particle hair strands were not evolving.
Bug: Removed 4 4K wrong textures from some materials. The memory requirement of the model is slightly lower.
UI: Updated MustardUI to 0.23.1.16 with small internal bug fixes.
Version 1.3.2 (14/07/2022)
Bug: Performance were low in Viewport when particle hair were active, even if not used (thanks to ZMSFM).
Version 1.3.1 (09/07/2022)
Bug: Particles Hair in Cycles show the scalp.
Version 1.3.0 (07/07/2022)
Feature: Added particle hair (Beta*).
Feature: Added skirt with bones.
Feature: Added tan and tan line (Beta**).
Feature: Added pressure effects on the Default FFVII Remake outfit for stockings, panties and top.
Improvement: The teeth have a better shape without too much space between them.
Bug: Better "eye fix" when closing the eyes.
Bug: Default outfit harness was clipping with the back of the skirt.
UI: updated MustardUI to 0.23.1.14. You can now disable morphs without disabling shape keys (so preserving the body/face/emotion shapes you choose even with disabled morphs); and particle systems are now automatically disabled when the hair are switched to non particle hair, to prevent decrease in viewport performance.
Other small bug fixes.
*: Some options are available clicking on the cogwheel. For more control, check the Particle System settings. A huge thank to Nagoo and Gman for the help in fixing the physics.
**: Let me know if you like the color and the tan lines.
Version 1.2.1 (28/06/2022)
Bug: Fixed a bug that was causing huge performance drops in sculpt mode (hopefully also fixing performance in Blender 3.2 that seemed worse than 3.1.2).
Version 1.2.0 (28/06/2022)
Feature: Limited new makeup options.
Feature: Added Chinese hair.
Improvement: Improved the genitals rig, you can now move the circle bone to move the genitals.
Improvement: The eye close fix has been improved, especially in the brows area.
Bug: The hand corrective shape keys had incorrect driver expression.
Bug: Some images/nodes were duplicated.
Bug: The tongue and teeths textures were not correct.
Bug: Breasts mesh has been smoothed to avoid artifacts when subdividing.
Bug: Pressure should be enabled and disabled manually when switching outfits.
Bug: Some Emotions (non FACS) might have eyebrows clipping with the body.
Bug: Eyes might be too dark, a slider has been added to make the eyes brighter.
Bug: Eye fix is not applied to Eye Close morph and to the Eye Blink bone.
Bug: Pose Library poses are uncategorized, and a lot of actions are listed. External Pose Library is now available.
Bug: Screenshots poses are not working, and they are not supposed to work. They have been deleted.
Other small bug fixes.
Version 1.1.0 (11/06/2022) – First release for patrons.
Future Ideas and Known Bugs
If you have any idea not mentioned in this list, please contact me on Discord. The current suggestions are:
Feature: belt separated from the outfit in the FF VII Purple outfit
Feature: add Chinese outfit
Feature: short hair
Statistic and Legacy Models
Some statistics on the Tifa models:
5 major versions
More than 25 revision versions, with new features and bug fixes
More than 250 changelog entries
More than 100k downloads, only on smutba.se and the versions that are now available
Over 500k views on the smutba.se model pages, of which more than half on the Version 4 of the model
17 MustardUI major versions used during the model developement
The older models can be downloaded in the Patreon archive or on smutba.se:
Credits
A really huge thank to Sreliata for the help in improving the model to be as close as in game as possible.
Calibrator for the particle hair systems (eyebrows, pubic hair, and some parts of the main hair).
RashNemain for huge help in optimizing the model (and the countless hours in testing this part of the model).
Rigid3D for some ideas from his great models.
Gman and Nagooanimation for the help with the particle hair.
Beta Testers: Maiden Masher, Desire Reality.
All the people who reported the bugs! I can improve models only with feedbacks!
(A special thank to crute for the Smutba.se download icon).